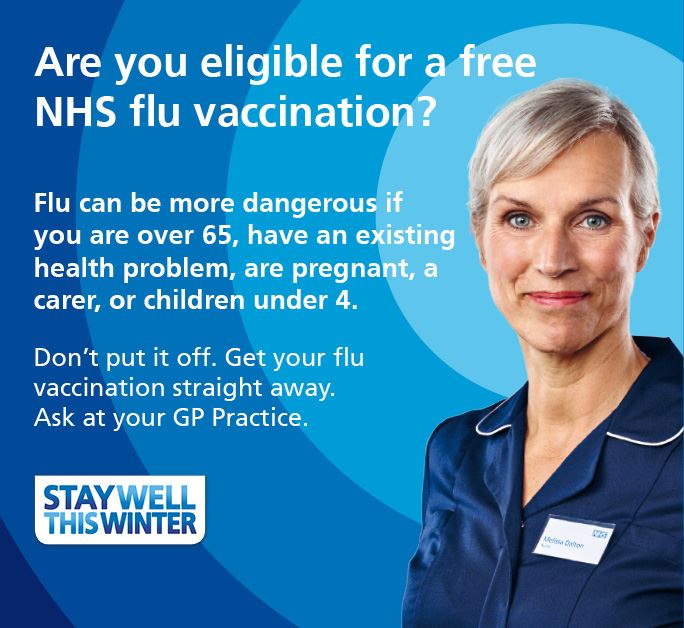 Flu vaccine
We are currently extremely short staffed, staff are working as fast as they can to help everyone. For this reason the phones line are very busy.
We thank you for your patience and consideration at this time.
Please remember that when ordering medication we ask that you allow 3 working days before collecting your prescription from the surgery. Alternatively, please allow 5 days before collecting medication from a nominated pharmacy.
Please note that Klinik will be DEACTIVATED during the following times:
Monday - Friday from 6pm - 8am and from Friday at 2pm until the following Monday at 8am. Any Klinik requests that come in after 2pm will be look at the following day.
For any medical needs during this time, please call 111. In an emergency please call 999.
This is for patient safety as Klinik is not monitored during these times.
Thank you and Stay Safe.
Watling Vale Medical Centre
Please be aware that we have had significant issues recruiting and retaining reception staff in recent months, mainly as a result of the levels of abusive language and threatening behaviour they are being exposed to from a minority of patients. Our frontline receptionists are here to help you and we cannot run the service without them. Please treat them with the respect they deserve.
IMPORTANT INFORMATION
Attention To All Patients
Please note the surgery will close on one afternoon a month for staff training as part of the Protected Time Government initiative. The surgery will be closed between 2.30pm and 6.30pm.
24th May 2023

21st June 2023

20th July 2023

20th September 2023

17th October 2023

23rd November 2023

24th January 2024

20th February 2024

21st March 2024
Klinik will be deactivated during this time.
Welcome to The Watling Vale Medical Centre
Established since 1987, the Watling Vale Medical Centre has been serving the Milton Keynes community health needs for over 25 years.
The Surgery is open Monday to Friday 08:00 to 18:30 and we have full disabled access.
We are a busy Practice consisting of six GPs and three Practice Nurses with district nurses, health visitor and midwife service all of whom work for the benefit of the patients. We provide a choice of personal care with a wide range of medical interests.
We run many clinics for the management of long-term conditions such as asthma and diabetes and offer a wide variety of other medical services including antenatal, postnatal care, minor surgery, childhood vaccinations and travel clinics.